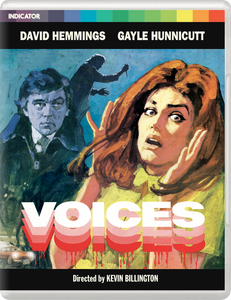 VOICES - LE [US]
Regular price £15.99 £16.99 Sale
(Kevin Billington, 1973)
Release date: 22 February 2022
Limited Edition Blu-ray

Real-life husband and wife David Hemmings (Blowup, Deep Red) and Gayle Hunnicutt (Eye of the Cat, Fragment of Fear) star in this tense British shocker from director Kevin Billington (The Rise and Rise of Michael Rimmer).
After a tragic family accident, Claire (Hunnicutt) suffers a mental breakdown. In an effort to help her recovery, Robert (Hemmings), her husband, takes her to convalesce in a grand country house, but her already fragile sanity is soon threatened by ghostly apparitions and terrifying visions. 
Shot on a mixture of film and video, this superb chiller is presented in a brand new restoration from a 4K scan of the original separation masters by Powerhouse Films. Making its worldwide debut on Blu-ray, Voices is accompanied with a selection of newly produced extras and a comprehensive booklet.


INDICATOR LIMITED EDITION BLU-RAY SPECIAL FEATURES

New restoration from a 4K scan of the original separation masters by Powerhouse Films




Authentic presentation of this unique mixed-media production, which combines film-shot and video-captured material




Original mono audio




Audio commentary with writers and film experts Barry Forshaw and Kim Newman (2022)



Wide Boys

 (2022, 18 mins): film historian Vic Pratt charts the ups and downs of John Daly and David Hemmings' production company, Hemdale



Mon Brave!

 (2022, 8 mins): filmmaker Peter Crane recalls his personal and professional relationship with Hemmings



Voices from the Past

 (2022, 4 mins): a look at the challenges of restoring 

Voices


Image gallery: promotional and publicity material




New and improved English subtitles for the deaf and hard of hearing




Limited edition exclusive 36-page booklet featuring a new essay by Julian Upton, archival interviews with actors Hemmings and Gayle Hunnicutt, a look at the source play, an overview of contemporary critical responses, and film credits




World premiere on Blu-ray




Limited edition of 4,000 copies for the UK and US
#PUSLTD176
REGION FREE
UPC: 843501037652