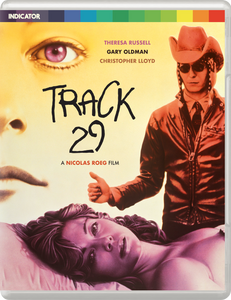 TRACK 29 - LE
Regular price £15.99 £16.99 Sale
THIS ITEM WAS A LIMITED EDITION AND IS NOW OUT-OF-PRINT.
STANDARD EDITIONS ARE HERE.
(Nicolas Roeg, 1988)
Release date: 27 May 2019 (OOP date: 12 October 2022)
Limited Edition Blu-ray (World Blu-ray premiere)
The explosive combination of director Nicolas Roeg (Performance, Don't Look Now, The Man Who Fell to Earth) and writer Dennis Potter (Pennies from Heaven, The Singing Detective) created one of British cinema's most unique and disquieting works – the hugely underrated Track 29.
Freely adapted from Potter's BBC TV play Schmoedipus, this unsettling film stars Theresa Russell (Bad Timing, Black Widow) as an unhappy, possibly unstable, housewife who welcomes a young man (Gary Oldman – Prick Up Your Ears, Darkest Hour) into her home when he claims to be her long-lost son...
Ambitious, ambiguous and surreal, Track 29 is a kinky psychological send-up of American mores – a view from the dis-united states of consciousness. The glorious supporting cast includes Christopher Lloyd (Back to the Future), Sandra Bernhard (The King of Comedy) and Colleen Camp (The Swinging Cheerleaders).

INDICATOR LIMITED EDITION BLU-RAY SPECIAL FEATURES
High Definition remaster

Original stereo audio

The NFT Interview with Nicolas Roeg (1994, 68 mins): archival audio recording of the celebrated filmmaker in conversation at London's National Film Theatre

Audio commentary with filmmaker and historian Jim Hemphill

Postcards from Cape Fear (2019, 18 mins): actor Colleen Camp recalls the experience of working with Nicolas Roeg

On the Right Track (2019, 10 mins): editor and longtime Roeg collaborator Tony Lawson discusses the construction of the film

An Air of Mystery (2019, 6 mins): costume designer Shuna Harwood details the distinctive look of Track 29

Buzz and Gossip (2019, 15 mins): sound mixer David Stephenson reflects on the challenges of making the film

Isolated music & effects track

Original theatrical trailer

Image gallery: promotional and publicity material

New and improved English subtitles for the deaf and hard-of-hearing

Limited edition exclusive 36-page booklet with a new essay by Danny Leigh, Dennis Potter and Theresa Russell on Track 29, an overview of contemporary critical responses, and film credits

World premiere on Blu-ray

Limited Edition of 3,000 copies
#PHILTD126
BBFC cert: 18
REGION B
EAN: 5037899071823