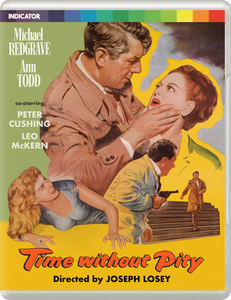 TIME WITHOUT PITY - LE
Regular price £15.99 £16.99 Sale
THIS ITEM WAS A LIMITED EDITION AND IS NOW OUT-OF-PRINT.
STANDARD EDITIONS ARE HERE.
(Joseph Losey, 1957)
Release date: 28 October 2019 (OOP date: 7 October 2022)
Limited Edition Blu-ray (World Blu-ray premiere)
Following his blacklisting in the McCarthy HUAC hearings, director Joseph Losey (Eva, The Damned, Secret Ceremony) moved to the England in the 1950s. The gritty British suspense thriller, Time Without Pity was the first film he made in the UK under his own name.
In a BAFTA-nominated performance, the great Michael Redgrave (Goodbye Gemini, Connecting Rooms, Dead of Night) stars as an anguished father whose son is convicted of murder and languishing on death row. In a desperate race against time, he attempts to prove his son's innocence whilst bringing the real murderer to justice.
With photography by Freddie Francis (The Elephant Man), and a superb supporting cast including Ann Todd (Taste of Fear), Leo McKern (X the Unknown), and Peter Cushing (Corruption, The Beast Must Die), Time Without Pity is a brilliantly accomplished slice of Brit-noir, and a potent cry against capital punishment.
 
INDICATOR LIMITED EDITION BLU-RAY SPECIAL FEATURES
The John Player Lecture with Joseph Losey (1973, 

80 mins): the celebrated filmmaker in conversation with film critic Dilys Powell at London's National Film Theatre

New and exclusive audio commentary with Neil Sinyard, co-author of British Cinema in the 1950s: A Celebration

The Sins of the Father (2019, 16 mins): filmmaker Gavrik Losey, son of Joseph Losey, discusses Time Without Pity

Horlicks: Steven Turner (1960, 1 min): vintage commercial for the malted milk drink, directed by Joseph Losey

New and improved English subtitles for the deaf and hard-of-hearing

Limited edition exclusive 40-page booklet with a new essay by Robert Murphy, Joseph Losey on Time Without Pity, Jeff Billington on the MacMahonists and Time Without Pity, an overview of critical responses, and film credits

World premiere on Blu-ray

Limited edition of 3,000 copies
#PHILTD154
BBFC cert: PG
REGION FREE
EAN: 5037899084021