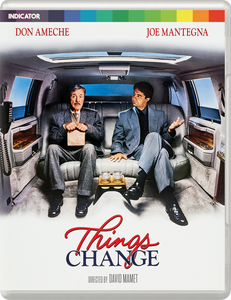 THINGS CHANGE - LE
Regular price £15.99 £16.99 Sale
THIS ITEM WAS A LIMITED EDITION AND IS NOW OUT-OF-PRINT.
STANDARD EDITIONS ARE HERE.
(David Mamet, 1988)
Release date: 22 March 2021 (OOP date: 21 October 2022)
Limited Edition Blu-ray (World Blu-ray premiere)


Written and directed by David Mamet (Oleanna), the Pulitzer Prize-winning playwright known for his intense dramas, Things Change is a charming, expertly crafted 'mistaken identity' comedy.
The Mob force unassuming shoe-shine man Gino (Don Ameche, Trading Places) into taking the hit for a murder he didn't commit. The pay-off? A fishing boat in Sicily when he gets out. Small-time crook Jerry (Joe Mantegna, House of Games) takes Gino on one last jaunt to Lake Tahoe before his term begins, but, when Gino is mistaken for a major league gangster, the duo soon fall prey to local hoodlums…
An unexpected change of pace for Mamet, Things Change benefits from an intelligent, witty script and superb central performances from Ameche and Mantegna, who received Best Actor awards at the Venice Film Festival for their efforts.
INDICATOR LIMITED EDITION BLU-RAY SPECIAL FEATURES

High Definition remaster




Original mono audio



Engineering Things

 (2021, 21 mins): acclaimed writer-director David Mamet reminisces about his career and the making of 

Things Change

Things Happen

 (2021, 30 mins): actor Joe Mantegna on working with Mamet and Don Ameche



Melodies for Mamet

 (2021, 17 mins): composer Alaric Rokko Jans describes the process of scoring 

Things Change

, and his other collaborations with Mamet



Life As It Could Be

 (2021, 10 mins): appreciation by comedian, musician and writer Rob Deering




Original theatrical trailer




Image gallery: promotional and publicity materials




Limited edition exclusive 32-page booklet with a new essay by Ellen Cheshire, an archival production report, extracts from interviews with David Mamet and Don Ameche, an overview of contemporary critical responses, and film credits




World premiere on Blu-ray




Limited edition of 3,000 copies
#PHILTD219
BBFC cert: PG
REGION B
EAN: 5060697921052