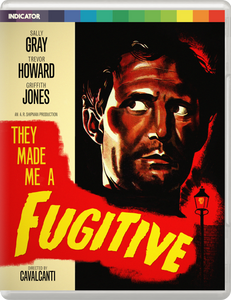 THEY MADE ME A FUGITIVE - LE
Regular price £15.99 £16.99 Sale
(Alberto Cavalcanti, 1947)
Release date: 23 September 2019 (OOP date: 31 March 2023)
Limited Edition Blu-ray  (UK Blu-ray premiere)
Directed by Alberto Cavalcanti (Went the Day Well?, Dead of Night), They Made Me a Fugitive is a prime example of British film noir.
Trevor Howard (Who?, The Missionary) plays Clem Morgan, an RAF officer during the war, now unemployed since demobilisation. Turning to the black market, he finds himself embroiled in a life of crime that will lead to prison, a daring escape, and a deadly manhunt.
Boasting striking cinematography by Otto Heller, whose later credits would include Michael Powell's Peeping Tom and classic Cold War thriller The Ipcress File, this UK Blu-ray premiere of They Made Me a Fugitive is accompanied by two rare short films, made during Howard's own time in the RAF during WWII, featuring his earliest known on-screen appearances.
 
INDICATOR LIMITED EDITION BLU-RAY SPECIAL FEATURES
2K restoration by the British Film Institute

The John Player Lecture with Alberto Cavalcanti (1970, 62 mins): archival audio recording of the celebrated director at London's National Film Theatre, including an audience Q&A with fellow filmmakers Michael Balcon, Paul Rotha and Basil Wright

After Effects (2019, 29 mins): appreciation by author and film historian Neil Sinyard

About the Restoration (2019, 14 mins): the BFI's Kieron Webb discusses the process of restoring the film

Squaring the Circle (1941, 33 mins): dramatised Royal Air Force training film, starring Trevor Howard in his first known film role

The Aircraft Rocket (1944, 9 mins): extract from a multi-part RAF technical film, featuring Howard

Image gallery: promotional and publicity material

New and improved English subtitles for the deaf and hard-of-hearing

Limited edition exclusive 36-page booklet with a new essay by Nathalie Morris, extracts from Cavalcanti's Film and Reality, a 1970 article on Cavalcanti by Geoffrey Minish, an overview of contemporary critical responses, Anthony Nield on the wartime films of

Trevor Howard, and film credits
#PHILTD151
BBFC cert: PG
REGION FREE
EAN: 5037899071991