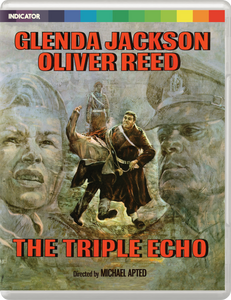 THE TRIPLE ECHO - LE
Regular price £15.99 £16.99 Sale
(Michael Apted, 1972)
Release date: 25 March 2019 (OOP date: 7 October 2022)
Limited Edition Blu-ray (World Blu-ray premiere)
Michael Apted made his feature-film debut with this distinctive drama based on the novella of the same name by H E Bates. Reuniting Glenda Jackson with her Women in Love co-star Oliver Reed, the film also stars a young Brian Deacon (Vampyres, A Zed & Two Noughts).
When a young soldier (Deacon) deserts his outfit and hides in a remote farm, the farm owner (Jackson) and he fall in love. But their idyll is shattered by the arrival of a boorish, violent army sergeant (Reed) searching for his AWOL recruit.
Unconventional and superbly played, The Triple Echo is one of the finest British films of the 1970s. Long overlooked and unjustly neglected, this powerful drama is now ripe for rediscovery, and is presented in a brand new 2K restoration from the film's newly rediscovered original negative.
INDICATOR LIMITED EDITION BLU-RAY SPECIAL FEATURES
New 2K restoration by Powerhouse Films from the original negative

A Matter of Life and Death (2019, 15 mins): director Michael Apted reflects on his feature debut and its place within his prolific career

Identity Crises (2019, 29 mins): actor Brian Deacon recalls his first film role starring alongside Glenda Jackson and Oliver Reed

A Different Perspective (2019, 25 mins): editor Barrie Vince recalls shaping and structuring the film

Dressing Up (2019, 9 mins): costume designer Emma Porteous on the challenges of recreating an authentic wardrobe for The Triple Echo

The Emotion of the Moment (2019, 8 mins): composer Marc Wilkinson discusses highlights from his score

A Sense of Justice (2019, 23 mins): an in-depth appreciation by author and film historian Neil Sinyard

Super 8 version: original cut-down home-cinema presentation

Original theatrical trailer, edited by the legendary Jean Fouchet

Image gallery: on-set and promotional photography

New and improved English subtitles for the deaf and hard-of-hearing

Limited edition exclusive 36-page booklet with a new essay by Pasquale Iannone, an archival interview with Michael Apted, H E Bates on The Triple Echo, an overview of contemporary critical responses, an analysis of Jean Fouchet's theatrical trailer, and film credits

World premiere on Blu-ray

Limited Edition of 3,000 copies
#PHILTD119
BBFC cert: 15
UK EDITION: REGION B
EAN: 5037899071755