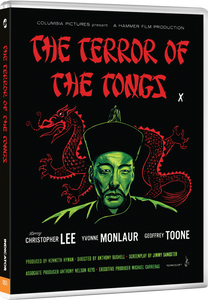 THE TERROR OF THE TONGS - Single
Regular price £9.99 £9.99 Sale
(Anthony Bushell, 1961)
Release date: 23 July 2018
Limited Edition Blu-ray
Part historical adventure, part crime-revenge thriller, and sharing elements of Hammer's horror films,
The Terror of the Tongs
portrays exotic villains and shocking violence in a plot which unfolds at breakneck speed. Penned by the great Jimmy Sangster, the film is set in British-occupied Hong Kong, and concerns one man's crusade to crush the feared Red Dragon Tong gang who had brutally murdered his daughter.
The Terror of the Tongs
was the first film in which star Christopher Lee received top-billing – in a role that he clearly relished, as Chung King, the sadistic head of the Red Dragon Tong. It was one that would also serve as a dry run for one of his most famous character portrayals in the later Fu Manchu series of films.
INDICATOR LIMITED EDITION BLU-RAY SPECIAL FEATURES
High Definition remaster
Original mono audio
Audio commentary with writer Jimmy Sangster, assistant editor Chris Barnes and film historian Marcus Hearn
Hatchet Men: Inside 'The Terror of the Tongs' (2018, 22 mins): documentary written and directed by Hammer expert Marcus Hearn, narrated by Claire Louise Amias, and featuring film historians Alan Barnes and Jonathan Rigby
Hammer's Women: Yvonne Monlaur (2018): British cinema expert Laura Mayne explores the life and career of the French-born film, stage and television actress
Stephen Laws Introduces 'The Terror of the Tongs' (2018, 22 mins): scene-setting appreciation by the acclaimed horror author
Hammer and Tongs (2018, 11 mins): a new appreciation of James Bernard's score by David Huckvale, author of Hammer Film Scores and the Musical Avant-Garde
Shear Terror (2018, 3 mins): interview with assistant costume designer Yvonne Blake
Original theatrical trailer
Image gallery: promotional photography and publicity material
New and improved English subtitles for the deaf and hard-of-hearing
Limited edition exclusive 40-page booklet with a new essay by Samm Deighan, interviews with Yvonne Monlaur and writer Jimmy Sangster, pressbook extracts, contemporary critical reviews, and film credits
#PHILTD083-S
BBFC cert: 15
REGION FREE