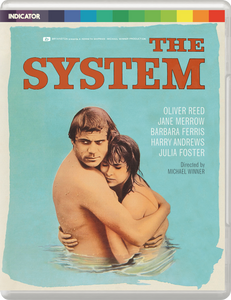 THE SYSTEM - LE
Regular price £16.99 £9.99 Sale
(Michael Winner, 1964)
Release date: 23 September 2019 (OOP date: 31 January 2024)
Limited Edition Blu-ray (World Blu-ray premiere)
The first of six collaborations between two of British cinemas most infamous figures – Oliver Reed (The Damned, The Triple Echo) and Michael Winner (Death Wish) – The System finds both at their creative peak.
Reed is leader of a gang of youths, who spend a hot summer season in Devon in pursuit of women – including Jane Merrow (The Appointment) and Barbara Ferris (A Nice Girl Like Me).
Filmed on location, and shot by the great Nicolas Roeg before he turned his attentions to directing, The System boasts a fine supporting cast, including Julia Foster (Alfie), Harry Andrews (The Deadly Affair), and David Hemmings (Fragment of Fear).
INDICATOR LIMITED EDITION BLU-RAY SPECIAL FEATURES
High Definition remaster

Original mono audio

Audio commentary with film historians Thirza Wakefield and Melanie Williams (2019)

Getting the Girl (2019, 18 mins): actor Jane Merrow reflects on the film's production and her role as Nicola

Drinking and Dancing (2019, 6 mins): actor John Porter-Davison recalls the experience of making The System

Fun and Games (2019, 4 mins): actor Jeremy Burnham discusses working with Oliver Reed and Michael Winner

Haunted England (1961, 24 mins): Winner's tongue-in-cheek Eastmancolor travelogue about stately homes and other famous places with ghostly tales to tell, hosted by broadcaster David Jacobs

Image gallery: promotional and publicity material

New and improved English subtitles for the deaf and hard-of-hearing

Limited edition exclusive 32-page booklet with new essay by Andy Miller, extracts from Winner's memoir Winner Takes All: A Life of Sorts, an overview of contemporary critical responses, Vic Pratt on Haunted England, and film credits

World premiere on Blu-ray

Limited edition of 3,000 copies
#PHILTD149
BBFC cert: 12
REGION FREE
EAN: 5037899071977