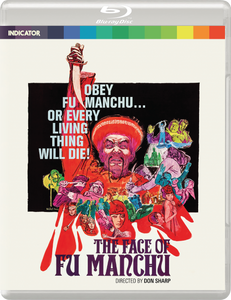 THE FACE OF FU MANCHU - BD
Regular price £9.99 £9.99 Sale
(Don Sharp, 1965)
Release date: 30 May 2022
Standard Edition Blu-ray
The first in a cycle of five films reviving Sax Rohmer's Chinese super-villain, Fu Manchu, produced and written by British maverick Harry Alan Towers (The Bloody Judge).
After faking his own execution, Fu Manchu (Christopher Lee, The Terror of the Tongs) returns to the criminal underworld to realise his latest dastardly scheme for world domination: harnessing the power of a rare Tibetan flower, the Blackhill poppy, to mass-produce a deadly poison gas. Detective Nayland Smith (Nigel Green, Sword of Sherwood Forest, Play Dirty) and his stalwart sidekick Dr Petrie (Howard Marion-Crawford, Gideon's Day) must race against the clock to stop the evil genius from unleashing his weapon of mass destruction on London.
A sterling start to the series, The Face of Fu Manchu is a thrilling pulp-adventure which benefits from assured direction from Don Sharp (Psychomania) and exuberant performances from its lead players.
INDICATOR STANDARD EDITION SPECIAL FEATURES
Restoration from a 4K scan of the original negative

Original mono audio

Audio commentary with genre-film experts, critics and authors Stephen Jones and Kim Newman (2020)

The BEHP Interview with Don Sharp – Part One: From Hobart to Hammer

(1993, 96 mins): archival audio recording, made as part of the British Entertainment History Project, featuring Sharp in conversation with Teddy Darvas and Alan Lawson

The BEHP Interview with Ernest Steward – Part One: The BIP Years

(1990, 96 mins): archival audio recording of an interview with the respected cinematographer, made as part of the British Entertainment History Project

Archival interview with Christopher Lee (1965, 4 mins): extract from the Irish television programme Newsbeat, filmed during location shooting in Dublin
Vic Pratt Introduces 'The Face of Fu Manchu'

(2020, 7 mins): appreciation by the BFI curator

Underneath the Skin (2020, 49 mins): broadcaster, educationalist and author of The Yellow Peril: Dr Fu Manchu & The Rise of Chinaphobia, Christopher Frayling, examines the origin, history and reputation of Sax Rohmer's works

Alternative titles and credits

Super 8 versions: cut-down home cinema presentations with original vinyl soundtracks

Original UK, German and French theatrical trailers

Image gallery: promotional and publicity material

New and improved English subtitles for the deaf and hard of hearing
 
#PHIBD201
BBFC cert: PG
REGION B
EAN: 5060697922196