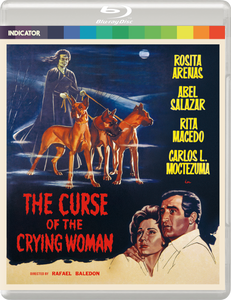 THE CURSE OF THE CRYING WOMAN - BD [US]
Regular price £9.99 £9.99 Sale
(Rafael Baledón, 1963)
Release date: 31 October 2023
Standard Edition Blu-ray
The atmospheric Mexican chiller
The Curse of the Crying Woman
(
La maldición de la Llorona
) fuses the tropes of Gothic horror cinema with Mexican folklore's most terrifying figure.
The beautiful Amelia (Rosita Arenas) visits her aunt Selma (Rita Macedo) at her remote mansion. There, she uncovers Selma's plot to sacrifice her and reincarnate the spirit of La Llorona, the legendary 'crying woman' who lures travellers to their deaths!
Directed by Rafael Baledón (
The Man and the Monster
) and co-starring Abel Salazar (
The Brainiac
),
The Curse of the Crying Woman
is a masterwork of Gothic cinema in the vein of Mario Bava's
Black Sunday
.
INDICATOR STANDARD EDITION SPECIAL FEATURES
High Definition remaster
Original Spanish mono soundtrack
Alternative English mono soundtrack
Audio commentary with academic and Latin American horror specialist, Valeria Villegas Lindvall, also known as Morena de Fuego (2023)
The Daughters of La Llorona (2023, 26 mins): actor, producer and singer Julissa de Llano Macedo and author Cecilia Fuentes Macedo remember the peculiar relationship they had with their mother, Mexican screen icon Rita Macedo
Daydreams and Nightmares (2023, 20 mins): academic, author and film scholar Eduardo de la Vega Alfaro discusses the prolific career of actor-writer-producer-director Rafael Baledón
Original Spanish-language theatrical trailer
Image gallery: promotional and publicity material
New and improved English translation subtitles for the Spanish soundtrack
New and improved English subtitles for the deaf and hard of hearing
#PUSSE384B
REGION FREE
UPC: 843501042045