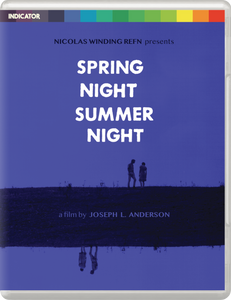 SPRING NIGHT SUMMER NIGHT - LE
Regular price £16.99 £16.99 Sale
THIS ITEM IS AVAILABLE TO PRE-ORDER. PLEASE NOTE THAT YOUR PAYMENT WILL BE TAKEN IMMEDIATELY, AND THAT THE ITEM WILL BE DISPATCHED JUST BEFORE THE LISTED RELEASE DATE.
SHOULD YOU ORDER ANY OF THE ALREADY RELEASED ITEMS FROM OUR CATALOGUE AT THE SAME TIME AS THIS PRE-ORDER ITEM, PLEASE NOTE THAT YOUR PURCHASES WILL ALL BE SHIPPED TOGETHER WHEN THIS PRE-ORDER ITEM BECOMES AVAILABLE.

PLEASE PLACE A SEPARATE ORDER FOR PRE-ORDERS IF YOU WISH TO HAVE IN-STOCK ITEMS SHIPPED SOONER.
(Joseph L Anderson, 1967)
Release date: 25 May 2020
Limited Edition Blu-ray (UK Blu-ray premiere)
With its non-professional cast, this sensitive drama, which explores the intimate relationship between a coal-miner's daughter and her half-brother, is American independent cinema's closest relation to Italian Neorealism. Presented by Nicolas Winding Refn in a beautiful new restoration by Peter Conheim and Ross Lipman, Joseph L Anderson's film played international festivals in 2019 to great acclaim.


INDICATOR LIMITED EDITION BLU-RAY SPECIAL FEATURES

New 4K restoration




Original mono audio



'Spring Night Summer Night': 50 Years Later 

(2020, 25 mins): retrospective documentary by Glenn Litton featuring interviews with writer-director Joseph L Anderson, writer-producer Franklin Miller, actors John Crawford, Ted Heimerdinger and Larue Hall, and sound mixer Tom Peterson



I'm Goin' to Straitsville 

(2020, 14 mins): documentary revisiting the Columbus, Ohio locations with Franklin and Judy Miller, and archivist and restoration supervisor Peter Conheim



In the Middle of the Nights: From Arthouse to Grindhouse and Back Again 

(2020, 13 mins): video essay by restoration supervisor Ross Lipman comparing 

Spring Night Summer Night 

to its 'sexploitation' recut, 

Miss Jessica Is Pregnant

Cleveland Cinematheque Q&A 

(2016, 48 mins): cast and crew panel discussion



16mm Behind-the-Scenes Footage 

(1967, silent): rare and previously unseen material from the film's production, with optional commentary by Franklin Miller and Peter Conheim




Three short films by Anderson, comprising the 'Bluegrass Trilogy': 

Football as It Is Played Today 

(1961), 

How Swived 

(1962), and 

Cheers 

(1963)




Image gallery: behind-the-scenes photography




New and improved English subtitles for the deaf and hard-of-hearing




Limited edition exclusive 40-page booklet with a new essay by Ian Mantgani, Glenn Litton's memories of director Joseph L Anderson, Peter Conheim on the film's restoration, a look at the career of distributor Joseph L Brenner, Conheim on the 'Bluegrass Trilogy', and film credits




UK premiere on Blu-ray




Limited edition of 3,000 copies
#PHILTD167
BBFC cert: 15
REGION FREE
EAN: 5060697920178