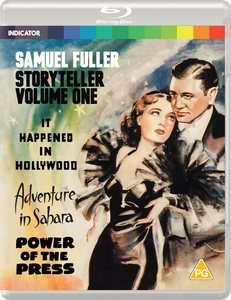 SAMUEL FULLER: STORYTELLER VOLUME ONE - BD
Regular price £9.99 £9.99 Sale
IT HAPPENED IN HOLLYWOOD (Harry Lachman, 1937)
ADVENTURE IN SAHARA (D Ross Lederman, 1938)
POWER OF THE PRESS (Lew Landers, 1943)
Release date: 25 October 2021
Standard Edition Blu-ray
Journalist, screenwriter, novelist, soldier, filmmaker – Samuel Fuller was one of American cinema's most prolific and multi-faceted talents. However, the films based on Fuller's early work as a screenwriter remain under appreciated.
It Happened in Hollywood: Regarded by Fuller as his 'first real Hollywood credit', the film has a now-familiar premise: the silent film star who finds they are unable to make the transition to talkies. Blending comedy, romance, action, and a playful self-reflexive streak, the film established Fuller in Hollywood. 
Adventure in Sahara: Fuller takes full story credit on this rip-roaring adventure yarn inspired – he claimed – by Victor Hugo, Beau Geste, and Mutiny on the Bounty.
Power of the Press: Drawing on Fuller's own experiences as young newspaperman and journalist, this crime drama is a passionate cry for freedom of speech and expression. The film also features Fuller's first fully formed and vital female heroine in the shape of the impassioned Edwina (Gloria Dickson).


INDICATOR STANDARD EDITION SPECIAL FEATURES
High Definition remasters of all three films
Original mono audio
It Happened in Hollywood (1937, 68 mins): Richard Dix and Fay Wray star as big-screen actors adapting to the coming of sound in this witty exposé of Tinseltown, directed by Harry Lachman from a screenplay co-written by Samuel Fuller
Adventure in Sahara (1938, 57 mins): action-packed drama of revenge and honour, starring Paul Kelly and Lorna Gray, directed by D Ross Lederman from a story by Fuller
Power of the Press (1943, 64 mins): Lew Landers directs this hard-edged drama about corruption within the newspaper industry, based on a story by Fuller and starring Guy Kibbee, Lee Tracy and Gloria Dickson
All-Star Party (2018, 6 mins): who's who of the 'stars' and their impersonators in the climactic party scene from It Happened in Hollywood
Sam Fuller's Search for Truth with Tim Robbins (2009, 7 mins): the celebrated actor explores Fuller's time as a reporter
Image gallery: publicity photography and promotional material for all three films
New and improved English subtitles for the deaf and hard-of-hearing


#PHIBD076
BBFC cert: PG
REGION FREE
EAN: 5060697921854