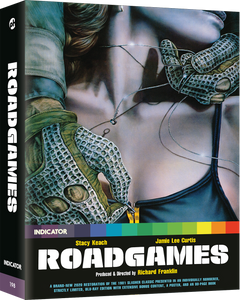 ROADGAMES - LE
Regular price £19.99 Sale
THIS ITEM WAS A LIMITED EDITION AND IS NOW OUT-OF-PRINT.
STANDARD EDITIONS ARE HERE.

(Richard Franklin, 1981)
Release date: 14 December 2020 (OOP date: 12 June 2021)
Limited Edition Blu-ray (UK Blu-ray premiere)
Stacy Keach (Fat City) and Jamie Lee Curtis (Halloween) star in Richard Franklin's 1981 Australian slasher classic, inspired by Alfred Hitchcock's Rear Window. Keach plays Quid, an American trucker who, with the help of Curtis's hitchhiker, tracks down a serial killer active on the long, empty roads of southern Australia. This deluxe, extras-laden edition boasts an all-new 2020 restoration from a 4K scan of the duplicate negative, produced exclusively for this release.
 
INDICATOR LIMITED EDITION BLU-RAY SPECIAL FEATURES

Brand new restoration by Powerhouse Films, from a new 4K scan of the internegative

Original mono audio

Audio commentary with director Richard Franklin and film historian Perry Martin (2003)

Audio commentary with cinematographer Vincent Monton, costume designer Aphrodite Kondos, production secretary Helen Watts, and filmmaker Mark Hartley (2019)

Audio commentary with writers and programmers Anna Bogutskaya and Olivia Howe (2020)

Kangaroo Hitchcock

 (2003, 

20 mins): archival documentary on the making of 

Roadgames
Australian Long Haul

 (2019, 14 mins): actor Stacy Keach reflects on the role of Pat Quid and working in Australia

Archival Interview with Richard Franklin

 (1981, 26 mins): the director discusses his early films and  

Roadgames

Audio interviews with Richard Franklin (2001, 23 mins), Stacy Keach (2016, 10 mins), and stunt co-ordinator Grant Page (2016, 33 mins)

'Not Quite Hollywood' Interview Excerpts

 (2008, 64 mins): over an hour of outtakes from Hartley's acclaimed documentary on Australian cinema, featuring Franklin, Page, actors Keach and Jamie Lee Curtis, screenwriter Everett De Roche, and assistant director Tom Burstall

'Roadgames': A Lecture

 (1980, 131 mins): archival recording of Franklin, co-producer Barbi Taylor and composer Brian May

Trouble Bound

 (2020, 13 mins): appreciation by film historian Neil Sinyard

Script Read

 (1980, 117 mins): audio recording of a pre-production read-through, featuring Franklin, Keach and Marion Edward

Music Demos

 (1980, 5 mins): excerpts from the Brian May score in demo form

…And His Ghost May Be Heard

 (1973, 15 mins): rare short film directed by Franklin

Original theatrical trailer

Image gallery: promotional and publicity materials

New and improved English subtitles for the deaf and hard-of-hearing

Limited edition exclusive 80-page book with a new essay by Lee Gambin, archival interviews with Franklin, Keach and Curtis, Franklin's 1980 Alfred Hitchcock obituary, an overview of contemporary critical responses, Mark Hartley on 

…And His Ghost May Be Heard

, and film credits

Limited edition exclusive double-sided poster

UK premiere on Blu-ray

Limited edition of 5,000 individually numbered units


#PHILTD198
BBFC cert: 15
REGION B
EAN: 5060697920635