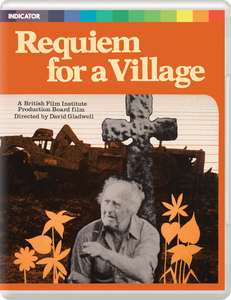 REQUIEM FOR A VILLAGE - LE [US]
Regular price £16.99 Sale
(David Gladwell, 1975)
Release date: 19 July 2022
Limited Edition Blu-ray
When an old man sees the dead rise from their graves in a rural English churchyard, the past and present are thrown together and a dialogue between the old and the new, tradition and progress, man and machine, is set in motion. Lyricism, violence and the uncanny collide to produce an extraordinary film of great power and potency.
Perhaps better known for work as the editor of Lindsay Anderson
'
s 
If....
 and 
O Lucky Man!
, David Gladwell directs this visionary folk offering with an artist
'
s eye. Exquisite slow-motion, no-holds-barred brutality, and weird alchemy are enriched by the astounding score from acclaimed composer David Fanshawe. Making its US Blu-ray debut, 
Requiem for a Village
 arrives complete with all-new director commentaries and a collection of Gladwell's short films which foreshadow many of the themes and techniques of his remarkable debut.
INDICATOR LIMITED EDITION BLU-RAY SPECIAL FEATURES
High Definition remaster
Original mono audio
Two audio commentaries with writer-director David Gladwell and film historian Sam Dunn, the first covering Gladwell's entire career, the second focusing on

 

Requiem for a Village
A Summer Discord

 

(1955, 18 mins): Gladwell's dream-like short, in which a young girl runs away from her chastising mother
Miss Thompson Goes Shopping

 

(1958, 23 mins): Gladwell's lyrical film, based on the 1920 poem by Martin Armstrong, charts an elderly woman's day trip from the peace of her rural cottage to the tumult and temptation of a local town
An Untitled Film

 

(1964, 9 mins): Gladwell's breathtaking experimental short, filmed entirely in extreme slow motion, and featuring an electro-acoustic score by Ernest Berk
The Great Steam Fair

 

(1964, 18 mins): visually striking documentary about a nostalgic event bringing together traditional fairground rides and steam engines, co-directed by Gladwell and celebrated documentarian Derrick Knight
28b Camden Street

 

(1965, 28 mins): Gladwell's documentary portrait of a Central London artists' community undergoing unwelcome redevelopment
New Way at Northgate

 

(1969, 35 mins): Gladwell's ground-breaking documentary about changes in a regional council's approach to caring for children with disabilities
Can Horses Sing?

 

(1971, 26 mins): Elizabeth Sussex's exquisite documentary about a rural Scottish school, edited by Gladwell
Audio commentary with critic Thirza Wakefield on

 

Can Horses Sing?
Image galleries: extensive collections of production and distribution material, as well as a selection of Gladwell's personal correspondence, and a gallery of his original paintings
Limited edition exclusive 36-page booklet with a new essay by Ben Nicholson, reprints of viewers' responses to the film's original UK TV broadcast, an overview of contemporary critical responses, new writing on Gladwell's short films by Adam Scovell, and film credits
US premiere on Blu-ray
Limited edition of 3,000 copies for the US
#PUSLTD257
REGION FREE

UPC:  843501038550