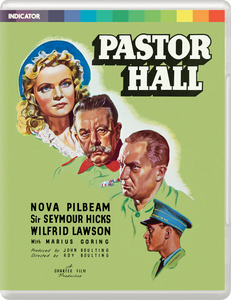 PASTOR HALL - LE
Regular price £16.99 £16.99 Sale
(Roy Boulting, 1940)
Release date: 27 June 2022
Limited Edition Blu-ray
When the quiet German village of Altdorf is taken over by an SS platoon which proceeds to enforce Hitler's ideals upon its inhabitants, a kindly pastor questions the agenda of 'The New Order' while members of his parish turn a blind eye to the insidious indoctrination. Before long, he is punished for his vocal opposition and is sent to Dachau, where, despite the abuse and brutality which he suffers, he refuses to give in to the madness and inhumanity of National Socialism.
Adapted from Ernst Toller's 1939 play of the same name, and based on the true story of Protestant minister Martin Niemöller, Pastor Hall is the impressive third feature from the Boulting brothers (Brighton Rock). Starring Wilfrid Lawson (Pygmalion) as the iconic pastor, and Nova Pilbeam (Young and Innocent) as his formidable daughter, the film was one of the first anti-Nazi dramas ever made and had its original production delayed by British censors who were not yet ready to be openly critical of Hitler's regime.
A bold and stirring tribute to the universal power of faith, courage and personal conviction, Pastor Hall has been newly restored from a 4K scan of the nitrate duplicate negative by Powerhouse Films and is finally available on Blu-ray for the first time in the world.


INDICATOR LIMITED EDITION BLU-RAY SPECIAL FEATURES
New restoration from a 4K scan by Powerhouse Films
Original mono audio
The IWM Oral History with Roy Boulting (1980, 96 mins): archival audio recording with the celebrated filmmaker
Faith Beyond Borders (2022, 15 mins): Matthew Hockenos, author of Then They Came for Me: Martin Niemöller, the Pastor Who Defied the Nazis, considers the true and fictional accounts of the pastor's life
The Cutting Class (2022, 14 mins): ex-BBFC examiner Richard Falcon discusses the film's censorship history
Niemöller Speaks in Hamburg (1946, 3 mins): extract from the Welt in Film newsreel, featuring footage of Niemöller's speech about post-war German guilt
The Dawn Guard (1941, 7 mins): short directed by Boulting, starring Pastor Hall actors Percy Walsh and Bernard Miles as members of the Home Guard
Minefield! (1944, 15 mins): documentary short produced by Boulting for the Army Film Unit
Image gallery: promotional and publicity material
New and improved English subtitles for the deaf and hard of hearing
Limited edition exclusive 36-page booklet featuring a new essay by Fiona Kelly, archival news articles, a look at the lost Eleanor Roosevelt prologue, contemporary critical responses, and film credits
World premiere on Blu-ray
Limited edition of 4,000 copies for the UK and US
#PHILTD268
BBFC cert: 12
REGION FREE
EAN: 5060697922257