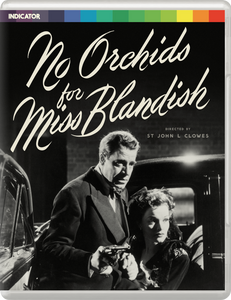 NO ORCHIDS FOR MISS BLANDISH - LE
Regular price £16.99 Sale
(St John L Clowes, 1948)
Release date: 27 May 2019 (OOP date: 1 November 2023)
Limited Edition Blu-ray (UK Blu-ray premiere)
Possibly the most controversial British film ever produced, this lurid crime drama caused an unprecedented storm of controversy upon release: local councils banned it, the Bishop of London denounced it, and MPs demanded an investigation into the BBFC for allowing it to be seen.
Based on the notorious novel by James Hadley Chase (which itself was condemned by George Orwell), No Orchids for Miss Blandish is a mixture of sex, violence and immorality, and tells the brutal story of a kidnapped heiress who falls for one of her crazed captors. 
This fascinating example of British film noir, which the Monthly Film Bulletin described as "the most sickening exhibition of brutality, perversion, sex and sadism ever to be shown on a cinema screen", is now released on UK Blu-ray for the very first time.

INDICATOR LIMITED EDITION BLU-RAY SPECIAL FEATURES
High Definition remaster

Original mono audio

Black Dice: alternative presentation with the US re-release title sequence

Interview with Richard Gordon and Richard Nielson (2010, 35 mins): the film's US distributor and the actor in a filmed discussion with broadcaster Joel Blumberg

Miss Blandish and the Censor (2019, 42 mins): ex-BBFC examiner Richard Falcon discusses the controversial film's history with the British Board of Film Censors

Soldier, Sailor (1945, 50 mins): World War II docudrama, conceived by No Orchids for Miss Blandish's writer-director St John L Clowes

Original theatrical trailer

Alternative Black Dice trailer

Image gallery: promotional and publicity material

New and improved English subtitles for the deaf and hard-of-hearing

Limited edition exclusive 40-page booklet with a new essay by Robert Murphy, analysis of the different versions of the source novel, including extracts from George Orwell's critical essay, news accounts of the controversy surrounding the film's release, an overview of contemporary critical responses, Michael Brooke on Soldier, Sailor, and film credits

UK premiere on Blu-ray

Limited Edition of 3,000 copies
#PHILTD148
BBFC cert: PG
REGION FREE
EAN: 5037899071960