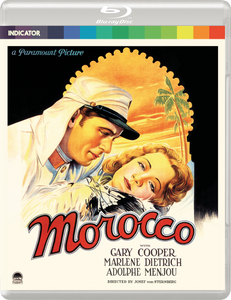 MOROCCO - BD
Regular price £9.99 £9.99 Sale
(Josef von Sternberg, 1930)

Release date: 25 July 2022
Standard Edition Blu-ray
The Limited Edition release of this title is now out-of-print. However, we do have some surplus LE components available in very limited numbers, which can be found in our Accessories section, including books and booklets. Click the link to explore.
Marlene Dietrich, dressed in an immaculately tailored trousers, tuxedo and top hat combination, sings 'When Love Dies' and kisses a woman in the audience. In this moment, Dietrich became an icon, a trailblazer, a performer unlike any before or since, and heralded her international stardom.

Morocco was Dietrich's first Hollywood picture, reuniting the formidable actor with the equally formidable director of her previous film, The Blue Angel, and continuing a working relationship that would extend to five further collaborations. She plays Amy Jolly, a nightclub singer who meets and falls in love with a legionnaire, played by Gary Cooper (Peter Ibbetson), beginning a torrid, delirious romance.


INDICATOR STANDARD EDITION SPECIAL FEATURES 
2K restoration
Original mono audio
Audio commentary with film critics Samm Deighan and Kat Ellinger (2019)
Introduction by Nicholas von Sternberg (2019, 11 mins): the son of Josef von Sternberg discusses Morocco as well as his father's early film career
The Art of Josef von Sternberg (2019, 10 mins): Nicholas von Sternberg reflects on his father's work in painting and sculpture
Lux Radio Theatre: 'The Legionnaire and the Lady' (1936, 59 mins): radio adaptation of Morocco, starring Marlene Dietrich and Clark Gable
Image gallery: promotional and publicity material
New and improved subtitles for the deaf and hard of hearing


#PHIBD130
BBFC cert: U
REGION B
EAN: 5060697920277