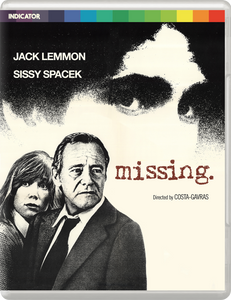 MISSING - LE
Regular price £16.99 Sale
THIS ITEM WAS A LIMITED EDITION AND IS NOW OUT-OF-PRINT.
STANDARD EDITIONS ARE HERE.
(Costa-Gavras, 1982)
Release date: 27 August 2018 (OOP date: 6 November 2020)
Limited Blu-ray Edition (UK Blu-ray premiere)
This tense real-life political drama about the 1973 kidnap and murder in Chile of young American journalist Charles Horman, directed by provocateur Costa-Gavras (Z, State of Siege, Betrayal), follows the efforts of the journalist's wife (Sissy Spacek - Carrie, The Coal Miner's Daughter) and father (Jack Lemmon - Some Like It Hot, The China Syndrome) to uncover the crime and bring those responsible to justice. Causing controversy upon its release (prompting the US government to condemn the film), this powerful indictment of US foreign policy went on to win an Academy Award® for Best Adapted Screenplay, as well as nominations for Best Actor, Best Actress and Best Picture.
INDICATOR LIMITED EDITION SPECIAL FEATURES

High Definition remaster




Original mono audio



The Guardian Interview with Costa-Gavras

 (1984, 85 mins): archival audio recording of an interview conducted by Derek Malcolm at London's National Film Theatre



The Guardian Interview with Jack Lemmon

 (1986, 116 mins): archival audio recording of an interview conducted by Jonathan Miller at the National Film Theatre



Costa-Gavras: Cannes Film Festival Interview

 (1982, 3 mins): short interview with the director



Costa-Gavras: Journal Antenne 2 Interview

 (1982, 4 mins): news article with journalist Christine Ockrent



Many Americas

 (2006, 31 mins): Costa-Gavras reflects upon the production and reception of the film



Freedom of Information

 (2006, 27 mins): Joyce Horman discusses the real-life events behind 

Missing

 and the experience of being portrayed on screen



Politically Personal

 (2018, 24 mins): a new filmed appreciation by filmmaker and actor Keith Gordon




Original theatrical trailer




Image gallery: promotional photography and publicity material




New and improved English subtitles for the deaf and hard-of-hearing




Limited edition exclusive 40-page booklet with a new essay by Michael Pattison, an interview with Costa-Gavras, an interview with journalist Thomas Hauser, an overview of responses to the film, and extensive film credit




UK premiere on Blu-ray




Limited Edition of 3,000 copies
#PHILTD106
BBFC cert: 15
REGION B
EAN: 5037899071502