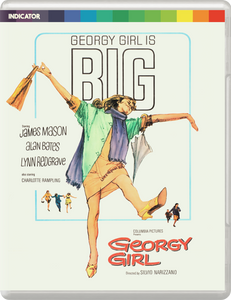 GEORGY GIRL - LE
Regular price £16.99 Sale
THIS ITEM WAS A LIMITED EDITION AND IS NOW OUT-OF-PRINT.

STANDARD EDITIONS ARE HERE.

(Silvio Narizzano, 1966)
Release date: 26 November 2018 (OOP date: 1 June 2020)
Limited Blu-ray Edition (World Blu-ray premiere)
One of the defining films of the 1960s, Silvio Narizzano's adaptation of Margaret Foster's 1965 novel stars Lynn Redgrave in an Oscar-nominated role as the put-upon teenager Georgy Parkin. Awkward and full of self-doubt, Georgy finds herself forever just outside of the 'Swinging Sixties' London life she craves.
Marked by a wonderfully warm and appealing central performance from Redgrave, and with its superb supporting cast including Charlotte Rampling (Death in Venice, The Night Porter), Alan Bates (A Kind of Loving, Women in Love) and the great James Mason (The Reckless Moment, Age of Consent, The Deadly Affair), Georgy Girl captures the spirit of the era – and boasts one of the all-time great film theme tunes.
INDICATOR LIMITED EDITION BLU-RAY SPECIAL FEATURES
• High Definition remaster
• Original mono audio
• Audio commentary with Diabolique magazine's editor-in-chief Kat Ellinger
• The Guardian Interview with Charlotte Rampling (2001, 59 mins): an archival audio recording of a career-spanning interview conducted by Christopher Cook at London's National Film Theatre
• The Tempo of the Time (2018, 8 mins): a new interview with author, playwright and co-screenwriter Peter Nichols
• A Wonderful Sense of Freedom (2018, 29 mins): editor John Bloom discusses his work on the film
• Georgy's Geography (2018, 4 mins): a new interview with art director Tony Woollard
• Going for a Song (2018, 5 mins): lyricist Jim Dale and editor John Bloom reveal the origins of Georgy Girl's famous theme song
• Original radio spot
• Original theatrical trailer
• Image gallery: promotional photography and publicity material
• New and improved English subtitles for the deaf and hard-of-hearing
• Limited edition exclusive 40-page booklet with a new essay by Leanne Weston, Howard Maxford on the film's making, an overview of contemporary critical responses, and film credits
• World premiere on Blu-ray
• Limited Edition of 3,000 copies
#PHILTD140
BBFC cert: 12
REGION FREE
EAN: 5037899071885