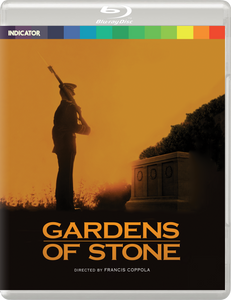 GARDENS OF STONE - BD
Regular price £9.99 £9.99 Sale
(Francis Ford Coppola, 1987)
Release date: 21 March 2022
Standard Edition Blu-ray
Francis Ford Coppola's impressive return to the subject of the Vietnam War is a poignant and contemplative companion piece to his epic masterwork Apocalypse Now.
Set in 1968, the film reunites Coppola with Godfather star James Caan, who plays a disillusioned army sergeant stationed at Fort Meyers' Arlington Cemetery and views the war in Vietnam as unwinnable, despairing at the dead arriving daily for burial from the front lines.
This powerful drama from one of American cinema's most audacious filmmakers boasts a towering performance by Caan, and a superb supporting cast, including Anjelica Huston, James Earl Jones, Mary Stuart Masterson and DB Sweeney.


INDICATOR STANDARD EDITION SPECIAL FEATURES
High Definition remaster
Original stereo audio
War at Home (2018, 17 mins): interview with multi-award-winning director Francis Coppola as he talks candidly about the production of Gardens of Stone
Audio commentary with filmmaker and critic Jim Hemphill
The Guardian Interview with Anjelica Huston (2006, 65 mins), archival audio recording of the celebrated actor in conversation with critic and producer Adrian Wootton at London's National Film Theatre
Original theatrical trailer
Image gallery: on-set and promotional photography
New and improved English subtitles for the deaf and hard of hearing
#PHIBD087
BBFC cert: 15 
REGION FREE
EAN: 5060697922080