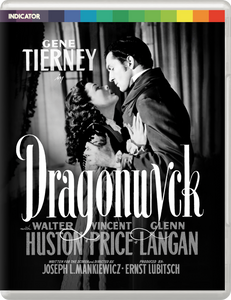 DRAGONWYCK - LE
Regular price £16.99 Sale
THIS ITEM WAS A LIMITED EDITION AND IS NOW OUT-OF-PRINT.
STANDARD EDITIONS ARE HERE.
(Joseph L Mankiewicz, 1946)
Release date: 22 April 2019 (OOP date: March 2020)
Limited Blu-ray Edition (UK Blu-ray premiere)
The directorial debut of the great Joseph L Mankiewicz (All About Eve, Suddenly, Last Summer), Dragonwyck is a glorious melding of Gothic chills and baroque melodrama. A beautiful Connecticut farm girl (Gene Tierney) finds herself embroiled in a conspiracy of madness, murder and intrigue after she agrees to become governess and nurse to the family of her distant cousin (Vincent Price).   
Echoing Hitchcock's Rebecca (1940), and reuniting stars Tierney and Price for the third time in as many years (having previously starred together in Otto Preminger's Laura, 1944, and John M Stahl's Leave Her to Heaven, 1945), Dragonwyck is a magnificently creepy chiller with a career-defining performance by Price, luminous cinematography by the legendary Arthur C Miller, and a wonderful Alfred Newman score.  
INDICATOR LIMITED EDITION BLU-RAY SPECIAL FEATURES
Two presentations of the film: the 2017 4K restoration, and the legacy High Definition remaster

Original mono audio

The John Player Lecture with Vincent Price (1969, 76 mins): archival audio recording of the celebrated actor in conversation at London's National Film Theatre
Audio commentary with film historian Steve Haberman and filmmaker Constantine Nasr
A House of Secrets: Exploring 'Dragonwyck' (2008, 17 mins): documentary featuring interviews with filmmaker Tom Mankiewicz, horror and fantasy authors Stephen Jones and Kim Newman, and others
Lux Radio Theatre: 'Dragonwyck' (1946, 60 mins): vintage radio adaptation of Anya Seton's novel, starring Vincent Price and Gene Tierney
The Screen Guild Theater: 'Dragonwyck' (1947,  25 mins): vintage radio broadcast, starring Vincent Price and Theresa Wright
Isolated music & effects track
Original theatrical trailer
Image gallery: on-set and promotional photography
New and improved English subtitles for the deaf and hard-of-hearing
Limited edition exclusive 36-page booklet with a new essay by Neil Sinyard, an overview of the film's Production Code history, Gene Tierney interview extracts, an overview of contemporary critical responses, and film credits
UK premiere on Blu-ray
Limited Edition of 3,000 copies

#PHILTD103
BBFC cert: PG
REGION B
EAN: 5037899071571