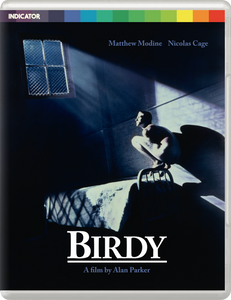 BIRDY - LE
Regular price £15.99 £16.99 Sale
THIS ITEM WAS A LIMITED EDITION AND IS NOW OUT-OF-PRINT.
(Alan Parker, 1984)
Release date: 28 October 2019 (OOP date: 16 October 2022)
Limited Edition Blu-ray (UK Blu-ray premiere)
Based on the acclaimed, 'unfilmable' novel by William Wharton, about a boy who dreams of flying, Alan Parker's elliptical, ethereal film is just as vividly poetic as its source.
Birdy is story of two unlikely boyhood friends, the confident and popular Al (Nicolas Cage – Wild at Heart, Leaving Las Vegas) and Birdy (Matthew Modine – Full Metal Jacket, Stranger Things), awkward, withdrawn, and obsessed with birds. The advent of the war in Vietnam shatters their youth, and they both return irrevocably changed – one physically traumatised, the other emotionally fractured.
This unique and affecting film from director Alan Parker (Midnight Express, Angel Heart), features skilful, highly committed central performances from young stars Modine and Cage (who allegedly had teeth removed for his gruelling role), and a wonderful score by Peter Gabriel. Birdy is a great unsung gem of 1980s cinema, and is presented here in a brand-new, director-approved 2K restoration.


INDICATOR LIMITED EDITION BLU-RAY SPECIAL FEATURES
2K restoration supervised and approved by director Alan Parker

Original stereo audio
New and exclusive audio commentary with Parker and the BFI's Justin Johnson
The Abstraction of War

 (2019, 25 mins): 

actor Matthew Modine fondly remembers the experience of working with the cast and crew of Birdy
Learning to Fly

 (2019, 14 mins): screenwriters Jack Behr and Sandy Kroopf reflect on the challenges of adapting an 'unfilmable' novel

Peter Gabriel on Making the Music for 'Birdy' (2000, 7 mins): archival interview with the acclaimed composer

Bird Watching (2019, 17 mins): a personal appreciation of the work of author William Wharton by filmmaker Keith Gordon

No Hard Feelings (1976, 55 mins): Parker's early film, which follows a troubled young man in wartime London

Original theatrical trailer

Image galleries: promotional and publicity material, and a selection of rare items from Matthew Modine's personal collection
New and improved English subtitles for the deaf and hard-of-hearing

Limited edition exclusive 48-page booklet with a new essay by Frank Collins, 

an extensive account of the making of the film b

y Alan Parker, an overview of critical responses, Jeff Billington on 

No Hard Feelings

, and film credits

UK premiere on Blu-ray

Limited edition of 5,000 copies
#PHILTD028
BBFC cert: 15
REGION FREE
EAN: 5037899071083