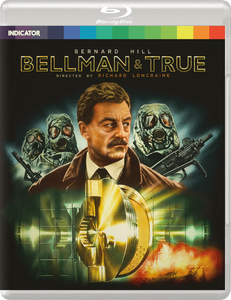 BELLMAN & TRUE - BD
Regular price £9.99 £9.99 Sale
(Richard Loncraine, 1987)
Release date: 28 August 2023
Standard Edition Blu-ray
Adapted by Desmond Lowden from his novel of the same name,
Bellman & True
is a tense heist thriller starring Bernard Hill (
Boys from the Blackstuff
,
The Lord of the Rings
) as a computer programmer blackmailed by gangsters into hacking a bank security system.
Directed by Richard Loncraine (
Full Circle
,
The Missionary
)
Bellman & True
deftly balances dramatic realism with stark black comedy and nail-biting suspense. Produced by HandMade Films,
Bellman & True
is a fine companion piece to their successful thrillers
The Long Good Friday
and
Mona Lisa
.
INDICATOR STANDARD EDITION SPECIAL FEATURES
High Definition remaster
Original mono audio
Two presentations of the film: the pre-release version that premiered at the 1987 London Film Festival (122 mins), and the original UK theatrical cut (114 mins)
Running in Traffic (2019, 24 mins): director Richard Loncraine recalls the production of the film
Just an Adventure (2019, 20 mins): actor Kieran O'Brien talks fondly of his first film role
Cracking the System (2019, 17 mins): screenwriter and author Desmond Lowden discusses adapting his own novel for the screen
Trust Me (2019, 10 mins): composer Colin Towns looks back at the creation of the film's score
Original theatrical trailer
Image gallery: promotional and publicity material
New and improved English subtitles for the deaf and hard of hearing
#PHISE125B
BBFC cert: 15
REGION B
EAN: 5060697923650