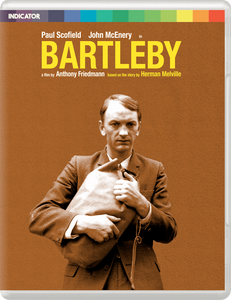 BARTLEBY - LE
Regular price £16.99 £16.99 Sale
THIS ITEM IS AVAILABLE TO PRE-ORDER. PLEASE NOTE THAT YOUR PAYMENT WILL BE TAKEN IMMEDIATELY, AND THAT THE ITEM WILL BE DISPATCHED JUST BEFORE THE LISTED RELEASE DATE.
SHOULD YOU ORDER ANY OF THE ALREADY RELEASED ITEMS FROM OUR CATALOGUE AT THE SAME TIME AS THIS PRE-ORDER ITEM, PLEASE NOTE THAT YOUR PURCHASES WILL ALL BE SHIPPED TOGETHER WHEN THIS PRE-ORDER ITEM BECOMES AVAILABLE.

PLEASE PLACE A SEPARATE ORDER FOR PRE-ORDERS IF YOU WISH TO HAVE IN-STOCK ITEMS SHIPPED SOONER.
(Anthony Friedmann, 1970)
Release date: 21 February 2022
Limited Edition Blu-ray
Based on Herman Melville's celebrated short story 'Bartleby, the Scrivener: A Story of Wall Street', Anthony Friedmann's unduly neglected film relocates the action to 1970s London and stars Oscar-winner Paul Scofield (A Man for All Seasons), John McEnery (Franco Zeffirelli's Romeo and Juliet), and Thorley Walters (Hammer's The Phantom of the Opera).
When a young office clerk, Bartleby (McEnery), becomes increasingly defeated by the pressures of modern life, he gradually opts out of all forms of social engagement and his frustrated employer (Scofield) does all he can to stop him from withdrawing entirely into his own world.
Superbly acted and exquisitely photographed, Bartleby is a rare gem of 1970s British cinema. Presented in a brand new restoration from a 4K scan of the original negative, this wry and complex drama makes its worldwide debut on Blu-ray accompanied by a range of new and archival extra features.


INDICATOR LIMITED EDITION BLU-RAY SPECIAL FEATURES

New restoration from a 4K scan of the original negative by Powerhouse Films




Original mono audio




Audio interview with writer-director Anthony Friedmann (2022, 15 mins)



Bartleby's London

 (2022, 4 mins): an exploration of 

Bartleby

's locations




Original theatrical trailer




Image gallery: promotional and publicity material




Script gallery: complete shooting script



Beat the Bomber

 (1975, 16 mins): anti-terrorism documentary short written and directed by Friedmann



Bartleby

 (2017, 12 mins): stop-motion animation version of the Melville story, directed by Kristen Kee and Laura Naylor




Animation timelapse footage from 

Bartleby

 (2017, 1 min)




Trailer for 

Bartleby

 (2017)



Bartleby

 (2017) image gallery: promotional and publicity material




New and improved English subtitles for the deaf and hard of hearing




Limited edition exclusive 36-page booklet featuring a new essay by Jeff Billington, archival interviews with star Paul Scofield and writer-director Anthony Friedmann, an overview of contemporary critical responses, new writing on 

Beat the Bomber

 and 

Bartleby

 (2017), and film credits




World premiere on Blu-ray




Limited edition of 2,000 copies for the UK (4,000 copies for the world)
#PHILTD240
BBFC cert: 12
REGION FREE
EAN: 5060697921922