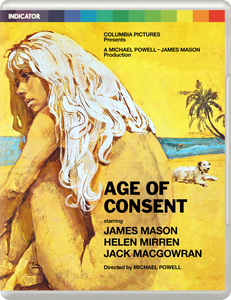 AGE OF CONSENT - LE
Regular price £16.99 Sale
THIS ITEM WAS A LIMITED EDITION AND IS NOW OUT-OF-PRINT.
STANDARD EDITIONS ARE HERE.
Release date: 26 November 2018 (OOP date: 6 November 2020)
Limited Blu-ray Edition (UK Blu-ray premiere)
Based on Norman Lindsay's controversial autobiographical 1935 novel, Age of Consent is the story of an artist (James Mason), grown tired of producing art for wealthy Americans, who moves to the wilds of Australia's Great Barrier Reef where he meets Cora (Helen Mirren), a teenage girl who inspires him and becomes his muse – as well as the object of his desire.
The penultimate film from the great Michael Powell (Black Narcissus, The Red Shoes, Peeping Tom), Age of Consent explores the obsessive nature of an artist approaching the twilight of his career. Misjudged and mis-handled on its initial release (when the distributor removed key scenes and re-scored the film), Age of Consent is now regarded as one of Powell's key works.
 
INDICATOR LIMITED EDITION BLU-RAY SPECIAL FEATURES
High Definition remaster
Original mono audio
Two presentations of the film: the 2005 restoration of the director's cut, scored by Peter Sculthorpe (107 mins); and the studio cut, scored by Stanley Myers (100 mins)
Audio commentary with film historian Kent Jones (2009)
The Beauty of the Image: The John Player Lecture with Michael Powell (1971, 85 mins): archival audio recording of the celebrated filmmaker in conversation with Kevin Gough-Yates at London's National Film Theatre 
The Guardian Interview with Michael Powell and Emeric Pressburger (1985, 105 mins): archival audio recording of the Archers in conversation with Ian Christie at London's National Film Theatre
Age of Innocence (2018, 38 mins): an in-depth appraisal of Age of Consent by Ian Christie, author of Arrows of Desire: The Films of Michael Powell and Emeric Pressburger
Making 'Age of Consent' (2009, 17 mins): production manager Kevin Powell, composer Peter Sculthorpe and editor Anthony Buckley recall the film's turbulent history 
Martin Scorsese on 'Age of Consent' (2009, 6 mins): the acclaimed director discusses the impact and legacy of Powell's film 
Helen Mirren: A Conversation with Cora (2009, 13 mins): the award-winning actor reflects on one of her earliest and most memorable film roles
Down-Under with Ron and Valerie Taylor (2009, 10 mins): a conversation with the celebrated underwater photographers
The Boy Who Turned Yellow (1972, 54 mins): Powell and Pressburger's final collaboration, made for the Children's Film Foundation
Original theatrical trailer
Image gallery: promotional photography and publicity material for Age of Consent and The Boy Who Turned Yellow
New and improved English subtitles for the deaf and hard-of-hearing
Limited edition exclusive 40-page booklet with new essays by Samm Deighan and Vic Pratt, archival recollections by the cast and crew, an overview of contemporary critical responses, and film credits•UK premiere on Blu-ray
Limited Edition of 3,000 copies


#PHILTD112
BBFC cert: 15 
REGION FREE
EAN: 5037899071687