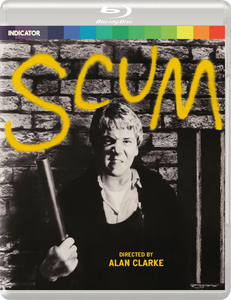 SCUM - BD
Regular price £9.99 £9.99 Sale
(Alan Clarke, 1979)
Release date: 28 August 2023
Standard Edition Blu-ray
After the banning of their original 1977 BBC TV version, director Alan Clarke (
The Firm
) and writer Roy Minton (
Funny Farm
) set out to remake their drama for the big screen to ensure that their vision got the audience it deserved. The resulting film was an even more vitriolic portrait of a corrupt and violent institution which stunned cinema audiences and caused outrage.
Uncompromising in its depiction of everyday violence, retribution, suicide and sexual assault,
Scum
remains a cornerstone of the British realist cinema movement, and a savage and still shocking indictment of institutionalised violence and abuse.
INDICATOR STANDARD EDITION SPECIAL FEATURES
2K restoration from the original negative, newly re-graded and approved by director of photography Phil Méheux
Original mono audio
Audio commentary with actor Ray Winstone and film critic Nigel Floyd (2006)
No Luxuries (2019, 20 mins): actor Mick Ford looks at his character of Archer and his working relationship with director Alan Clarke
An Outbreak of Acting (2019, 16 mins): actor Ray Burdis on returning to the role of Eckersley for the feature film
Smashing Windows (2019, 12 mins): actor Perry Benson recalls the daily experiences of being on set
Continuous Tension (2019, 18 mins): director of photography Phil Méheux analyses the documentary approach of his cinematography
Criminal Record (2019, 10 mins): associate producer Martin Campbell on remaking the banned teleplay for the big screen
Back to Borstal (2019, 32 mins): executive producer Don Boyd reflects on his efforts to reinvigorate British cinema in the late seventies
Concealing the Art (2019, 30 mins): veteran editor Michael Bradsell recalls collaborating with Alan Clarke
That Kind of Casting (2019, 22 mins): casting director Esta Charkham on the influence the Anna Scher Theatre had on production
Interview with Roy Minton and Clive Parsons (1999, 16 mins): the writer and producer look back on Scum twenty years after its release
Interview with Roy Minton (2005, 20 mins)
Interview with Davina Belling and Clive Parsons (2005, 9 mins): the producers of Scum discuss its transition from banned teleplay to feature film
Interview with Don Boyd (2005, 13 mins)
Cast Memories (2005, 17 mins): archival documentary featuring interviews with Phil Daniels, Julian Firth, Mick Ford and David Threlfall
Original 'U' and 'X' certificate theatrical trailers
Image gallery: promotional and publicity material
New and improved English subtitles for the deaf and hard of hearing
#PHISE156B
BBFC cert: 18
REGION FREE
EAN: 5060697923629