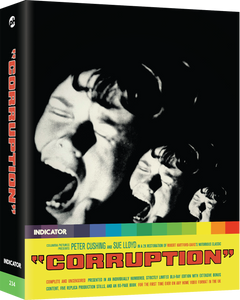 CORRUPTION - LE
Regular price £19.99 Sale
THIS ITEM WAS A LIMITED EDITION AND IS NOW OUT-OF-PRINT.
STANDARD EDITIONS ARE HERE.

(Robert Hartford-Davis, 1968)
Release date: 30 August 2021 (OOP date: 8 October 2022)
Limited Edition Blu-ray (UK Blu-ray premiere)
In the 1960s, director Robert Hartford-Davis (The Black Torment, The Fiend) teamed up with producer/cameraman Peter Newbrook (The Asphyx) to make a series of low-budget films capitalising on the cinematic crazes of the day. In 1968, the duo stridently ventured into the surgical horror subgenre with Corruption, a grim update of Eyes Without a Face, transposed into the scenic south-coast seaside town of Seaford, via Swinging Sixties London. 
In a surprising performance, Peter Cushing (Captain Clegg, The Revenge of Frankenstein) stars as a high-class plastic surgeon who is driven to murder as part of a demented quest to rebuild the decaying visage of his fashion model wife (Sue Lloyd, The Ipcress File), who has been severely scarred at a party.
A film that pushed the envelope of gore and sleaze in its era, Corruption is presented on home video for the first time in the UK.


INDICATOR LIMITED EDITION BLU-RAY SPECIAL FEATURES

2K restoration from the original negative

Three feature presentations: the censored UK theatrical cut (92 mins), the US theatrical cut (92 mins), and the graphic continental version (91 mins)

Original mono audio

Audio commentary with Peter Cushing biographer David Miller and English Gothic author Jonathan Rigby for the US cut and continental version (2013)
The BEHP Interview with Peter Newbrook (1995, 92 mins): archival audio recording of the producer and cameraman in a career-spanning conversation with Alan Lawson and Roy Fowler, made as part of the British Entertainment History Project
The Guardian Interview with Peter Cushing (1986, 72 mins): archival audio recording of the legendary actor in conversation with David Castell at the National Film Theatre, London
The Reluctant Beatnik (2021, 15 mins): actor Phillip Manikum revisits his time on the film
What Ever Happened to Wendy Varnals? (2013, 16 mins): the actor and TV host remembers playing Terry

Archival interview with actor Billy Murray (2012, 14 mins)

Archival interview with actor Jan Waters (2012, 9 mins)

Stephen Laws Introduces 'Corruption' (2021, 7 mins): appreciation by the acclaimed horror author
Alternative Laser Killer opening titles (3 mins)

Isolated music & effects track

Original UK theatrical trailer

Original US theatrical trailer

Edgar Wright trailer commentary (2013, 3 mins): short critical appreciation

TV spots

Radio spots

Image galleries: production stills and promotional material

Director's shooting script gallery

New and improved English subtitles for the deaf and hard-of-hearing

Limited edition exclusive 80-page book with a new essay by Laura Mayne, a history of production company Titan International Films, an archival interview with producer and cinematographer Peter Newbrook, a look at the film's music, cast and publicity, excerpts from the novelisation, an overview of contemporary critical responses, and film credits

Limited edition exclusive set of five replica production stills

UK premiere on any home video format

Limited edition of 5,000 individually numbered units
#PHILTD234
BBFC cert: 18
REGION B
EAN: 5060697921458