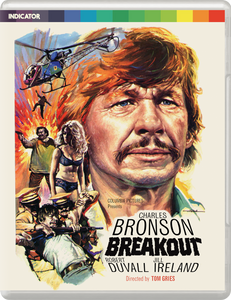 BREAKOUT - LE
Regular price £16.99 Sale
THIS ITEM WAS A LIMITED EDITION AND IS NOW OUT-OF-PRINT.
STANDARD EDITIONS ARE HERE.
Release date: 21 January 2019 (OOP date: 3 September 2020)
Limited Edition Blu-ray (UK Blu-ray premiere)

Charles Bronson achieved superstar status in the 1970s with box-office successes such as The Mechanic, Mr. Majestyk, and Death Wish; and 1975's Breakout was one of Bronson's biggest hits.
Inspired by real events, this tense adventure thriller casts Bronson as a tough mercenary pilot hired to fly into Mexico on a rescue mission – only to discover the real plan is to break a wealthy convict from a notorious prison.
Co-starring his real-life wife Jill Ireland, along with Randy Quaid, John Huston and the ever-exceptional Robert Duvall, Breakout is a thrilling action-ride, all set to a terrific Jerry Goldsmith score.
INDICATOR LIMITED EDITION BLU-RAY SPECIAL FEATURES
High Definition remaster

Original mono audio

Audio commentary with film historian Paul Talbot, author of Bronson's Loose! The Making of the 'Death Wish' Films and Bronson's Loose Again! On the Set with Charles Bronson
Filming 'Breakout' (1974, 6 mins): on-location report made for French television, featuring interviews with Charles Bronson and Emilio Fernández

Super 8 version: original cut-down home cinema presentation, with unique narration

Original theatrical trailer

TV spots

Radio spots

Image gallery: on-set and promotional photography

New and improved English subtitles for the deaf and hard-of-hearing

Limited edition exclusive 32-page booklet with new essays by Paul Talbot, an overview of contemporary critical responses, and film credits

UK premiere on Blu-ray

Limited Edition of 3,000 copies
#PHILTD108
BBFC cert: 15 
REGION FREE
EAN: 5037899071649