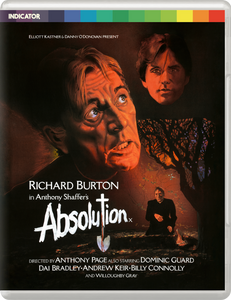 ABSOLUTION - LE
Regular price £15.99 £16.99 Sale
THIS ITEM WAS A LIMITED EDITION AND IS NOW OUT-OF-PRINT.
STANDARD EDITIONS ARE HERE.
(Anthony Page, 1978)

Release date: 24 September 2018 (OOP date: 12 October 2022)
Limited Blu-ray Edition (UK Blu-ray premiere)
At a Catholic boys' school, domineering disciplinarian Father Goddard (Richard Burton, Look Back in Anger, The Spy Who Came In from the Cold) rules over his pupils with an iron hand. When one of his teenage charges confesses to murder, the dogmatic but deeply repressed Goddard finds his faith challenged and his life spiralling dangerously out of control.
Also starring Billy Connolly (in his first feature-film role), Dominic Guard (The Go-Between, The Picnic at Hanging Rock), Kes star Dai Bradley, and the inimitable Brian Glover (Kes, Jabberwocky, Alien3), and written by the great Anthony Shaffer (The Wicker Man, Sleuth), Absolution is one of British cinema's most underrated chillers, not least for a towering central performance by Burton.
INDICATOR LIMITED EDITION BLU-RAY SPECIAL FEATURES
• 2K restoration
• Original mono audio
• Alternative presentations of the main feature: the original 1978 Theatrical Version and the 2018 Director's Cut
• Audio commentary with Kevin Lyons, editor of The Encyclopedia of Fantastic Film and Television, on the original theatrical version
• The Devil to Pay (2018, 12 mins): new and exclusive interview with director Anthony Page in which he reflects on the production of Absolution
• Them and Us (2018, 13 mins): new and exclusive interview with actor Dominic Guard
• Cutting the Cloth (2018, 9 mins): new and exclusive interview with costume designer Anne Gainsford
• Original theatrical trailer
• Stills and posters gallery
• Press materials gallery
• Limited edition exclusive 40-page booklet with a new essay by Neil Sinyard, location report with Anthony Page, Anthony Shaffer on Absolution, cast and crew profiles, an overview of contemporary critical responses, and film credits
• UK premiere on Blu-ray
• Limited Edition of 3,000 copies
#PHILTD120
BBFC cert: 18
REGION FREE
EAN: 5037899071762