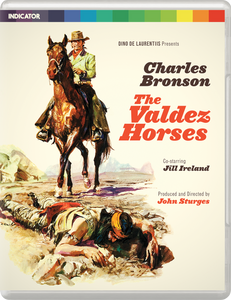 THE VALDEZ HORSES - LE
Regular price £16.99 £16.99 Sale
(John Sturges, 1973)
Release date: 25 January 2021
Limited Edition Blu-ray (UK Blu-ray premiere)


One of several impressive westerns Charles Bronson made during his 1970s heyday, The Valdez Horses reunites the rugged star with celebrated director John Sturges, who he had previously collaborated with on the perennial classics The Magnificent Seven and The Great Escape. 
A surprisingly thoughtful film, The Valdez Horses sees Bronson play a half-breed rancher whose solitary life taming wild horses is upended when three people enter his life: a young runaway (Vincent Van Patten), a corrupt land owner (Marcel Bozzuffi, The French Connection), and his beautiful sister (Jill Ireland, Breakout, The Valachi Papers). 
Beautifully filmed in mountains of Almería, Spain, a quintessential Spaghetti Western location, Sturges' film contrasts fist fights and shootouts with considered characterisation and an unexpectedly melancholy tone.


INDICATOR LIMITED EDITION BLU-RAY SPECIAL FEATURES

High Definition remaster

Original mono audio

Alternative presentation with Italian 

Valdez il mezzosangue

 title sequence

Audio commentary with film historian Paul Talbot, author of 

Bronson's Loose! The Making of the 'Death Wish' Films

 and 

Bronson's Loose Again!
Dust and Sweat

 (2021, 16 mins): renowned make-up artist Giannetto De Rossi recalls his time on 

The Valdez Horses
Gambling on the Horses

 (2021, 21 mins): uncredited screenwriter Stephen Geller shares his personal recollections of the production and crew

Alternative titles and credits

French theatrical trailer

US TV spot

Image gallery: promotional and publicity materials

New and improved English subtitles for the deaf and hard-of-hearing

Limited edition exclusive 36-page booklet with a new essay by Roberto Curti, an archival on-set report with contributions from Charles Bronson, Jill Ireland, and John Sturges, extracts of interviews with Bronson and Ireland, an overview of contemporary critical responses, and film credits

UK premiere on Blu-ray

Limited edition of 3,000 copies
#PHILTD187
BBFC cert: 15
REGION B
EAN: 5060697920468