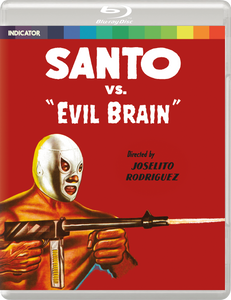 SANTO VS. EVIL BRAIN - BD [US]
Regular price £9.99 £9.99 Sale
(Joselito Rodríguez, 1961)
Release date: 19 September 2023
Standard Edition Blu-ray
Immediately recognisable by his distinctive silver mask, the heroic wrestler known as El Santo ('The Saint') was Mexico's most popular luchador, becoming a folk hero and the star of a hugely popular series of action films.
Santo vs. Evil Brain
(
Santo contra cerebro del mal
) was the earliest cinematic excursion for this icon of Mexican popular culture.
The dastardly Doctor Campos is kidnapping and brainwashing scientists, and when undercover detective Santo falls prey to his scheme, Lieutenant Zambrano (Enrique Zambrano) and El Incognito (Fernando Osés) must come to his assistance, and foil Campos' plans.
Made back-to-back with
Santo vs. Infernal Men
, and shot in Cuba in the final days before Fidel Castro entered Havana, this film represents the celluloid birth of a true screen legend, and spawned a further fifty Santo films.
INDICATOR STANDARD EDITION SPECIAL FEATURES
4K restoration from the original 35mm camera negatives
Original mono audio
Looking for El Santo (2023, 31 mins): Viviana García Besné's search for filming locations in Havana, Cuba and the true story behind the making of the first two Santo films
A League of Gentlemen (2023, 12 mins): previously unseen interview, filmed in 2009, in which co-star Joaquín Cordero reminisces about his experience acting alongside El Santo and his friendship with producer Jorge García Besné
Mascára vs. mascara (2023, 33 mins): the Killer Film, el critico enmascarado (the Masked Critic) discusses the early years of Mexican lucha libre, the birth of the luchador film genre and El Santo's transition from wrestler to film star, cultural icon, and national treasure
New English subtitles
#PUSSE276B
REGION FREE
UPC: 843501041789