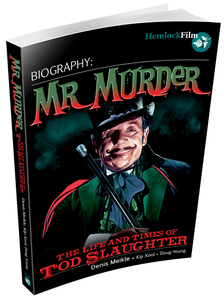 MR MURDER: THE LIFE AND TIMES OF TOD SLAUGHTER - Paperback book
Regular price £19.99 Sale
Tod Slaughter is the 'missing link' between the villains of melodrama of the Victorian popular theatre and the Gothic guignol of Hammer horror. Slaughter's Squire Corder, Sweeney Todd, Sir Percival Glyde and more, from the likes of Maria Marten and Crimes at the Dark House, were the gloating, grotesque forerunners of aristocratic Hammer villains such as Baron Frankenstein, or Sir Hugo Baskerville in The Hound of the Baskervilles.

Tod Slaughter came late to the screen, at the age of fifty, after a lengthy career on the stage, but he left behind a body of work which, although mostly overlooked by film historians, provided British cinema with its first true 'horror' star and the genre as a whole with a rich vein of period thrillers unique to the literary and cinematic heritage of their country of origin. From Sweeney Todd: The Demon Barber of Fleet Street to Crimes at the Dark House, Tod Slaughter grinned and garrotted his way to film fame between the wars as 'Mr Murder', the 'Master of Melodrama', or simply 'Europe's Horror Man'. He was one of a kind; in the entire history of horror, there has never been a villain so deliciously duplicitous, so lecherously leering or so maniacally monstrous as Newcastle-Upon-Tyne's Norman Carter 'Tod' Slaughter.

Mr Murder: The Life and Times of Tod Slaughter is the definitive biography of Gosforth's most famous son. For the first time in print, and with the participation of Tod Slaughter himself (through exclusive extracts from his unpublished autobiography), this intensively researched and lavishly illustrated book by the leading authorities on Slaughter details the life and work of one of the neglected stars of the British screen. A significant gap in the literature of macabre movies has now been plugged: with Mr Murder: The Life and Times of Tod Slaughter, its subject can at last take his rightful place in the pantheon of horror greats such as Boris Karloff, Bela Lugosi, Vincent Price, Peter Cushing, and Christopher Lee. And not before time.


Paperback edition
280 pages (eight pages in colour)
Fully illustrated
Weight: 500g
ISBN: 9781999305666