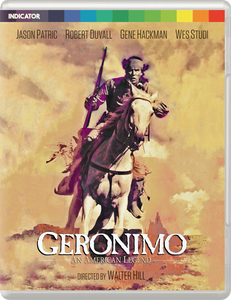 GERONIMO: AN AMERICAN LEGEND - LE
Regular price £16.99 £16.99 Sale
(Walter Hill, 1993)
Release date: 25 January 2021 (OOP date: 30 October 2023)
Limited Edition Blu-ray (UK Blu-ray premiere)


Geronimo: An American Legend recounts the proud history of the famous Apache warrior who refused to accept the destruction of his people and, through his resistance and bravery, earned the respect of those he fought against.
Wes Studi (The Last of the Mohicans) gives a dignified central performance as the eponymous Native American hero and is ably supported by Gene Hackman (Cisco Pike), Jason Patric (The Lost Boys), Robert Duvall (Badge 373) and, in an early role, Matt Damon, who all play his adversaries in the US cavalry.
Unjustly neglected upon its original release, Geronimo benefits from John Milius and Larry Gross's respectful, considered screenplay which is elevated by the epic sweep of Walter Hill's direction. A visually stunning film that beautifully captures the vastness of the frontier landscape, Hill's film is given extra poignancy by Ry Cooder's moving score. 


INDICATOR LIMITED EDITION BLU-RAY SPECIAL FEATURES

High Definition remaster

Original 5.1 surround sound and stereo audio tracks

Audio commentary with western experts C Courtney Joyner and Henry Parke (2021)

The Old Days Are Gone

 (2021, 24 mins): director Walter Hill revisits the production of his epic western

I Have Seen My Power

 (2021, 12 mins): actor Wes Studi recalls how he embodied the famous Apache warrior

Impressions of the West

 (2021, 

13 mins): multi-instrumentalist Ry Cooder remembers the challenges and achievements of composing the film's score
The Guardian Interview with Ry Cooder

 (1995, 72 mins): wide-ranging onstage interview with the guitar legend, conducted by film critic Jonathan Romney, filmed at the National Film Theatre, London

'Geronimo' présenté par Bertrand Tavernier

 (2016, 36 mins ): in-depth appreciation of the film by the esteemed French filmmaker

Geronimo Goes to Hollywood

 (2020, 18 mins): Kim Newman, the author of 

Wild West Movies

, discusses the many film portrayals of the fearless Native American

Geronimo's Last Raid

 (1912, 15 mins): new remaster of the early silent western, presented with an optional new score by the band Peninsula

Original theatrical trailer

Image gallery: promotional and publicity materials

New and improved English subtitles for the deaf and hard-of-hearing

Limited edition exclusive 40-page booklet with a new essay by Omar Ahmed, extracts from screenwriter Larry Gross' shooting diary, an overview of contemporary critical responses, and film credits

UK premiere on Blu-ray

Limited edition of

 

3,000 copies
#PHILTD220
BBFC cert: 12
REGION B
EAN: 5060697921069