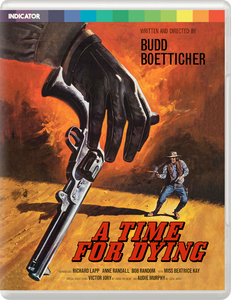 A TIME FOR DYING - LE
Regular price £16.99 £16.99 Sale
(Budd Boetticher, 1969)
Release date: 21 March 2022 (OOP date: 30 October 2023)
Limited Edition Blu-ray (World Blu-ray premiere)
The final western from one of the genre's greatest directors, Budd Boetticher (Ride Lonesome), and the last screen appearance of war hero-turned-movie star Audie Murphy (To Hell and Back), A Time for Dying is an offbeat, elegiac look at the Old West, prefiguring Don Siegel's classic western, and John Wayne's final picture, The Shootist. 
Richard Lapp stars as a young man with fine shooting skills who crosses paths with real-life figures, such as Jesse James (played by Murphy) and Judge Roy Bean (Victor Jory), only to discover the true violence of the West.
Beset by post-production and distribution problems, A Time for Dying is overdue the recognition it deserves. This world Blu-ray debut, featuring an all-new restoration and a host of insightful extras, will finally enable the film to find its rightful audience.


INDICATOR LIMITED EDITION BLU-RAY SPECIAL FEATURES

New restoration from a 2K scan of the original negative by Powerhouse Films

Two presentations of the film: in its original 1.85:1 theatrical aspect ratio; and 1.37:1 open matte shooting ratio

Original mono audio

Audio commentary with screenwriter and novelist C Courtney Joyner and film historian Henry Parke (2022)

A Sense of Poetry (2022, 14 mins): filmmaker and novelist Christopher Petit discusses his fascination with A Time for Dying and his reasons for selecting it for the Sight & Sound Greatest Films of All Time poll
The Men Who Shot Jesse James (2022, 20 mins): Kim Newman, critic and author of Wild West Movies, explores the many film portrayals of the infamous outlaw

New and improved subtitles for the deaf and hard of hearing

Limited edition exclusive 36-page booklet with a new essay by Paul Duane, archival interviews with director Budd Boetticher and actor Audie Murphy, and film credits

World premiere on Blu-ray

Limited edition of 4,000 copies for the UK and US
#PHILTD248
BBFC cert: 12
REGION FREE
EAN: 5060697921892