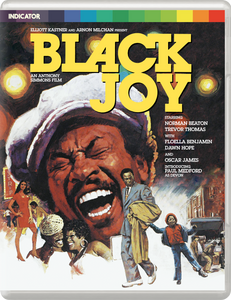 BLACK JOY - LE
Regular price £16.99 £16.99 Sale
Release date: 24 June 2019 (OOP date: 30 October 2023)
Limited Edition Blu-ray (World Blu-ray premiere)


Based on Jamal Ali's acclaimed stage play Dark Days and Light Nights, Black Joy tells the story of a naïve Guyanese immigrant who learns the hard way about life on the streets of Brixton.
Presenting vivid characters, terrific action, and a superb soundtrack of soul, funk, dub and reggae, Anthony Simmons' gritty film is an honest and insightful comic drama, exposing the lives of unemployed black Britons and immigrants in a ghettoised London.
Starring Norman Beaton (Desmond's), Trevor Thomas (Inseminoid), Floella Benjamin (Play School), and a young Oscar James (EastEnders), Black Joy comes to Blu-ray for the very first time.
INDICATOR LIMITED EDITION BLU-RAY SPECIAL FEATURES
High Definition remaster, newly re-graded and approved by cinematographer Phil Méheux

Original mono audio

The BEHP Interview with Anthony Simmons (1997, 99 mins): an archival audio recording, made as part of the British Entertainment History Project, featuring the prolific director in conversation with filmmaker Rodney Giesler

Good Stuff (2019, 10 mins): actor Trevor Thomas fondly recalls his first major film role

A People Story (2019, 17 mins): actor Floella Benjamin discusses one of her rare big-screen performances

Blazing the Trail (2019, 8 mins): Oscar James relates his experiences as a black actor in the seventies

Dark Days and Light Nights (2019, 36 mins): writer Jamal Ali explains the origins of his stage play and adapting it for the big screen

Guerrilla Operations (2019, 9 mins): Martin Campbell on making low-budget cinema as a young producer

Slices of Life (2019, 14 mins): director of photography Phil Méheux analyses his documentary approach to filming Black Joy

Benjamin's Brixton (2019, 3 mins): an exploration of Black Joy's London locations

Bow Bells (1954, 15 mins): Anthony Simmons' nostalgic short film about London's East End

Original theatrical trailer

Image gallery: promotional and publicity material

New and improved English subtitles for the deaf and hard-of-hearing

Limited edition exclusive 36-page booklet with a new essay by Josephine Dolan, Anthony Simmons and Norman Beaton on Black Joy, an overview of critical responses, Michael Brooke on Bow Bells, and film credits

World premiere on Blu-ray

Limited Edition of 3,000 copies
#PHILTD146
BBFC cert: 15
REGION FREE
EAN: 5037899071946