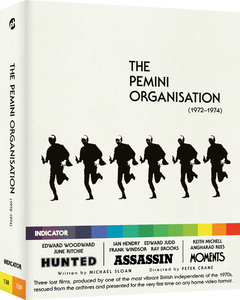 THE PEMINI ORGANISATION (1972-1974) - LE
Regular price £29.99 £29.99 Sale
THIS ITEM IS AVAILABLE TO PRE-ORDER. PLEASE NOTE THAT YOUR PAYMENT WILL BE TAKEN IMMEDIATELY, AND THAT THE ITEM WILL BE DISPATCHED JUST BEFORE THE LISTED RELEASE DATE.
SHOULD YOU ORDER ANY OF THE ALREADY RELEASED ITEMS FROM OUR CATALOGUE AT THE SAME TIME AS THIS PRE-ORDER ITEM, PLEASE NOTE THAT YOUR PURCHASES WILL ALL BE SHIPPED TOGETHER WHEN THIS PRE-ORDER ITEM BECOMES AVAILABLE.

PLEASE PLACE A SEPARATE ORDER FOR PRE-ORDERS IF YOU WISH TO HAVE IN-STOCK ITEMS SHIPPED SOONER.
HUNTED (Peter Crane, 1972)
ASSASSIN (Peter Crane, 1973)
MOMENTS (Peter Crane, 1974)

Release date: 30 May 2022
Limited Edition Blu-ray (World Blu-ray premieres)
In the early 1970s, three ambitious friends – Peter Crane, Michael Sloan and Nigel Hodgson – combined the first letters of each of their names and set up the Pemini Organisation, a young and vital independent British film production company. Active between 1972 and 1974, Pemini produced one mid-length film, Hunted, a high-suspense thriller starring Edward Woodward and June Ritchie, and two feature films: Assassin, a grimly realistic spy film starring Ian Hendry, Edward Judd, Frank Windsor, Ray Brooks and Mike Pratt; and Moments, an enigmatic romantic mystery starring Keith Michell and Angharad Rees. When Pemini disbanded, the films disappeared into the ether...
Now, these three lost works, made by one of the most vibrant independent production companies of the era, have been rescued from the archives to be given their first ever home entertainment release in this deluxe, individually numbered Limited Edition Blu-ray set, accompanied by a wealth of newly produced extras, including feature-length director commentaries, cast and crew interviews, and an 80-page book.


INDICATOR LIMITED EDITION 2 x BLU-RAY SPECIAL FEATURES

HUNTED
and
ASSASSIN
New restorations of Hunted and Assassin from 4K scans of the only surviving film elements by Powerhouse Films
Original mono audio

Audio commentaries on 

Hunted

 and 

Assassin

 with Pemini co-founder and director Peter Crane and film historian Sam Dunn (2022)

Organising Principles

 (2022, 32 mins): Crane remembers the origins of Pemini and his subsequent work in Hollywood

An Amazing Time

 (2022, 

7 mins): Pemini co-founder and writer Michael Sloan looks back at his three early films
Good Chemistry

 (2022, 29 mins): Pemini co-founder Nigel Hodgson revisits an exciting chapter in his life

A Group of Friends

 (2022, 14 mins): June Ritchie, star of 

Hunted

, recalls her time with Pemini

Scoring with Gerry

 (2022, 13 mins): the veteran Soho musician Graham Dee remembers his work with Gerry Shury on the compositions for 

In Search of Lebanon

 and 

Hunted
The Life of My Memories

 (2022, 22 mins): assistant director Martyn Chillmaid recounts his adventures on the three Pemini films

Assassin's Creed 

(2022, 22 mins): Ian Hendry biographer Gabriel Hershman explores the life and career of the troubled actor

'Hunted': The Lost Prologue (2022, 10 mins): video essay, narrated by Crane, reconstructing and reappraising scenes shot for the missing US television version of

 

Hunted
Restoring 'Hunted' and 'Assassin' 

(2022, 5 mins)

Image galleries: extensive behind-the-scenes, promotional and publicity materials from the Pemini archives

Assassin

 script gallery: complete shooting screenplay

New and improved English subtitles for the deaf and hard of hearing

World premieres on Blu-ray

MOMENTS

New restoration from a 4K scan of the only surviving film element by Powerhouse Films

Original mono audio

Audio commentary with Pemini co-founder and director Peter Crane and film historian Sam Dunn (2022)

The BEHP Interview with Wolfgang Suschitzky

 (1988, 93 mins): archival audio recording, made as part of the British Entertainment History Project, featuring the cinematographer in conversation with Bob Dunbar and Manny Yospa

'Moments' in Cannes

 (2022, 8 mins): Crane tells a memorable story about an exhibitor screening

A Present Out of the Blue

 (2022, 7 mins): actor Valerie Minifie fondly remembers 

Moments
Reality and Non-reality

 (2022, 14 mins): composer John Cameron replays some 

Moments 

motifs

Shooting with Mr Su

 (2022, 11 mins): gaffer Bill Summers recalls lighting 

Moments

 with Suschitzky

Nothing's Going to Stop Us

 (2022, 15 mins): production designer Bruce Atkins describes dressing the sets on the Pemini films

A Family Affair

 (2022, 22 mins): assistant James Partridge remembers working with his cousin, Crane

The Whole Story

 (2022, 17 mins): film historian Vic Pratt charts the rise and fall of Pemini

Deleted scenes (14 mins): sequences removed from release prints

 

Restoring 'Moments' 

(2022, 5 mins)

In Search of Lebanon

 (1970, 12 mins): student film directed by Crane and Hodgson exploring present-day Lebanon as the living source of the Adonis myth

Image gallery: extensive behind-the-scenes, promotional and publicity materials from the Pemini archives

New and improved English subtitles for the deaf and hard of hearing

World premiere on Blu-ray
Limited edition exclusive 80-page book featuring new essays by Peter Crane about the origins and history of Pemini, extracts from the films' original press materials, an archival news article, new writing on In Search of Lebanon

, and full film credits

Limited edition exclusive set of five replica production stills
World premieres on Blu-ray
Limited edition of 6,000

individually numbered units 

for the UK and US

#PHILTD138
BBFC cert: 15
REGION FREE
EAN: 5060697920499