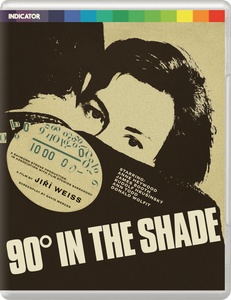 90° IN THE SHADE - LE
Regular price £16.99 £16.99 Sale
THIS ITEM IS AVAILABLE TO PRE-ORDER. PLEASE NOTE THAT YOUR PAYMENT WILL BE TAKEN IMMEDIATELY, AND THAT THE ITEM WILL BE DISPATCHED JUST BEFORE THE LISTED RELEASE DATE.
SHOULD YOU ORDER ANY OF THE ALREADY RELEASED ITEMS FROM OUR CATALOGUE AT THE SAME TIME AS THIS PRE-ORDER ITEM, PLEASE NOTE THAT YOUR PURCHASES WILL ALL BE SHIPPED TOGETHER WHEN THIS PRE-ORDER ITEM BECOMES AVAILABLE.

PLEASE PLACE A SEPARATE ORDER FOR PRE-ORDERS IF YOU WISH TO HAVE IN-STOCK ITEMS SHIPPED SOONER.
(Jiří Weiss, 1965)
Release date: 23 September 2019
Limited Edition Blu-ray (World Blu-ray premiere)
A rare Anglo-Czech co-production, 90° in the Shade is a fascinating, little-seen drama directed by Jiří Weiss (Romeo, Juliet and Darkness) and co-written by David Mercer (Morgan: A Suitable Case for Treatment).
Set at the height of summer, the film concerns shop assistant Anne Heywood (The Fox), and two men who will affect her life: James Booth (The Man Who Had Power Over Women), the married man with whom she is having affair, and Rudolf Hrusínský (The Cremator), an auditor who has family problems of his own.
Filmed simultaneously in English and Czech versions, Indicator is proud to present both cuts on Blu-ray for the first time ever.


INDICATOR LIMITED EDITION BLU-RAY SPECIAL FEATURES
Two presentations of the film, each using unique footage: 90° in the Shade (91 mins), the English-language version, in a new 2K restoration from the original negative by Powerhouse Films; and Třicet jedna ve stínu (83 mins), the Czech-language version, in a High Definition remaster
Original mono audio
Audio commentary with film historian Michael Brooke (2019)
Degrees of Separation (2019, 22 mins): a demonstration of the differences between the two versions of the film
The Rape of Czechoslovakia (1939, 17 mins): documentary film by director Jiří Weiss on the Nazi occupation of Czechoslovakia
The Other RAF (1942, 7 mins): documentary by Weiss on the Russian Air Force
100,000,000 Women (1942, 8 mins): documentary edited by Weiss on the role of Soviet women in the Second World War
Before the Raid (1943, 34 mins): dramatised account of Norwegian fishermen outwitting occupational forces during World War II, directed by Weiss and written by acclaimed author Laurie Lee
The IWM Interview with Jiří Weiss (1990, 26 mins): archival audio recording, made by the Imperial War Museum, featuring the director discussing his WWII filmmaking experiences
New and improved English subtitles for the deaf and hard-of-hearing for 90° in the Shade
Newly translated English subtitles for Třicet jedna ve stínu
Limited edition exclusive 36-page booklet with a new essay by Jonathan Owen, Weiss on 90° in the Shade, Anthony Nield on Weiss' WWII films, and film credits
World premiere on Blu-ray
Limited edition of 3,000 copies
#PHILTD153
BBFC cert: 12
REGION FREE
EAN: 5037899084014